Address









46, Changuimun-ro 5ga-gil, Jongno-gu, Seoul
서울특별시 종로구 창의문로5가길 46 (부암동)






Inquiries










• 1330 Travel Hotline: +82-2-1330
(Korean, English, Japanese, Chinese)
• For more info: +82-2-395-3222






Operating Hours









10:00-18:00

※ Open until 20:00 the last Wednesday of every month.





Closed









Every Monday

※ Closed during preparation of an exhibition.





Length of Tour









About 30 minutes




Introduction
Located in Buam-dong, Jongno-gu, Zaha Museum is the highest art gallery in Seoul. Reaching
the museum involves a bit of an uphill walk, but the breathtaking scenery that includes Bugaksan and Inwangsan makes it worth the effort.
Opened on March 1, 2008, the two-storey museum exhibits
experimental works of young artists. There are two exhibition halls and the small garden on the second floor has a great view of the mountains.
E-Mail
zahamuseum@paran.com
Structure Size
Total area: 430㎡
* Exhibition hall - 2 halls / 130.11㎡
* Office room - 2 rooms / 57.99㎡
* Storage room - 1 room / 44.4㎡
* Parking lot - 4 cars availble / 44.4㎡
Collections Status
2D: 52 pieces, 3D: 11 pieces, calligraphy: 7 pieces (total: 70 pieces)
Program Information
Varies by exhibition (educational programs are available)
Main Facilities
Exhibition hall, academic study room, office, and storage room
Restrooms
Available
Admission / Participation Fees
Free
Parking Facilities
Available (4 cars)
Parking Fee
Free
Info. Services for Koreans
Inquiries (Tel: +82-2-395-3222)
General Overview
Inquiries (Tel: +82-2-395-3222)
Map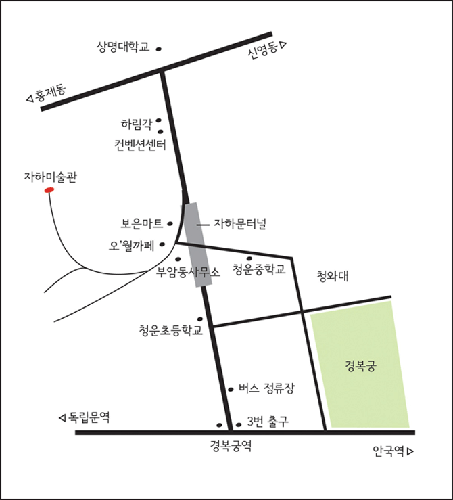 Homepage
www.zahamuseum.com
(Korean only)